Toronto Water Fountains
Enjoy our stunning, contemporary Toronto Water Fountain Rentals for a party or special Event. You can use our water fountains either Indoors or outdoors. The water fountain can be set on its own to make a stylish feature at your event or they can also pair with our contemporary furniture rentals (as seen on the right). 
All of our rental fountains can be illuminated with LED lights to create dramatic effects. We must install the fountain in a flat area. The purpose of the water fountain rentals is primarily decorative.  They create a "wow factor"  as a welcoming entrance feature, catching people's eye at parties, night clubs, corporate events,  exhibitions, or simply filling open spaces. They can also be used to create a dividing wall, or showcase products.
Sitra Furniture Rentals, event planning and  party decor company proudly manufacture our Contemporary Sitra Toronto  Water Fountains  in Toronto Canada.
Sitra Furniture Rentals, Event Planning and Decor Company deliver our contemporary Toronto Water fountains rentals in Toronto, Alliston, Barrie, Blue Mountains, Bradford, Brampton, Burlington, Etobicoke, Guelph, Hamilton, Kingston, Kitchener, Markham, Mississauga, London Ontario, Muskoka, New Market, Niagara falls, North York, Oakville, Oshawa, Ottowa, Vauahan, Woodbridge, Scarborough, Windsor, and Other cities in the GTA, Ontario , Montreal and other cities in Canada.
Toronto Water Fountains Without Furniture
SITRA TORONTO WATER FOUNTAIN WITH CLEAR WATER
Dimensions:
24″d x 24″ w x 84 "h
31″d x 31″ w x 84 "h
Custom colours for lighting & water available
Toronto Water Fountains With Ottomans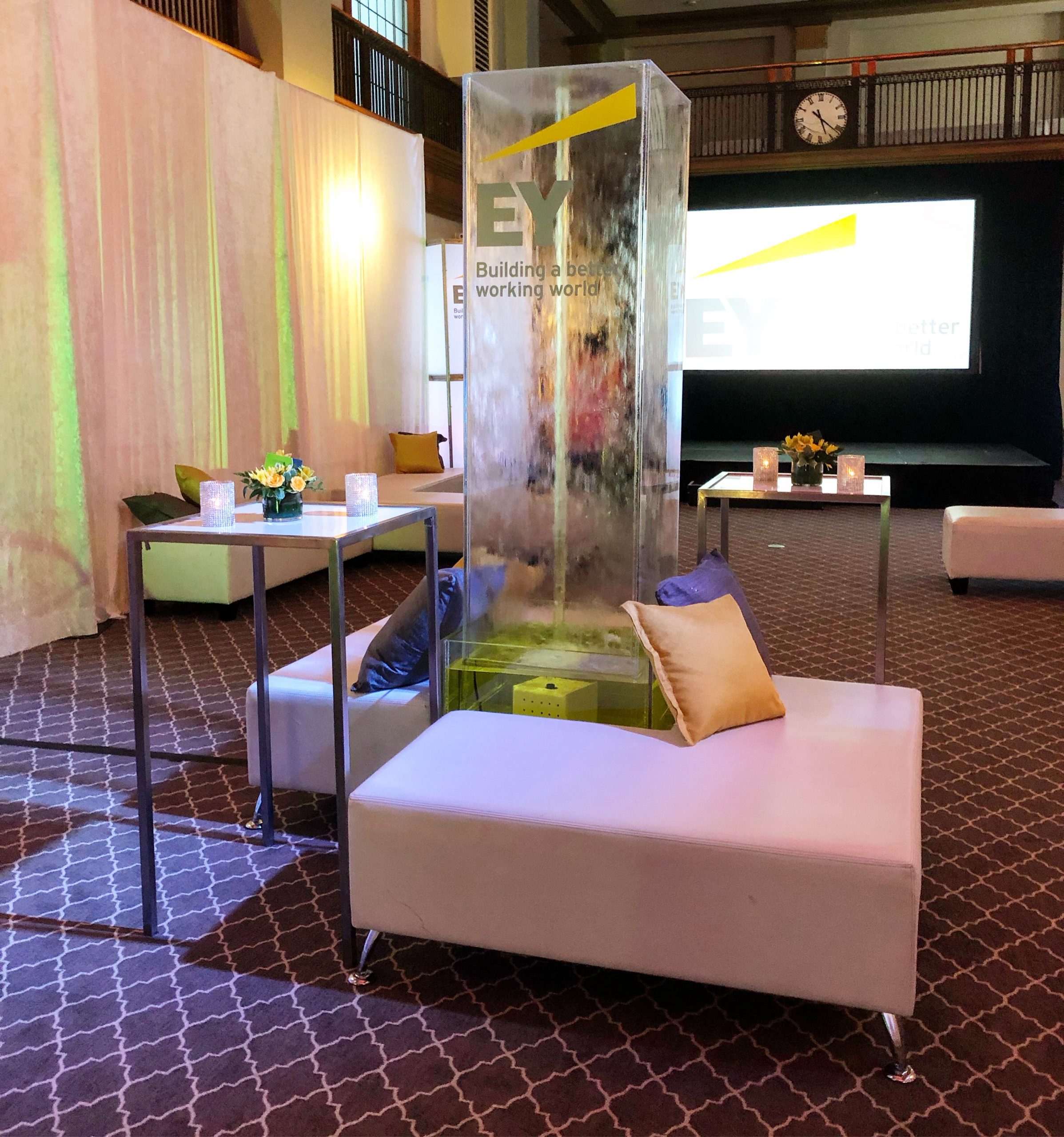 TORONTO WATER FOUNTAIN WITH LIGHT YELLOW WATER
Dimensions:

47″d x 47″ w x 84 "h
70″d x 70″ w x 84 "h
Other sizes available
 Clear acrylic Toronto Water Fountain
Yellow,  Custom colours for lighting & water available
SITRA TORONTO WATER FOUNTAIN & L OTTOMAN WITH LIGHT BLUE WATER
Ottoman Dimensions:
47″d x 47″ w x 84 "h
70″d x 70″ w x 84 "h
Light Blue, Custom colours for lighting and water available
Branded Toronto Water Fountains
Quality vinyl logos can be placed on the water fountains rentals.  They can highlight your brand, convey a corporate statement or detail information for your party or special event. The colour scheme and/or actual branding of  our contemporary furniture rentals and our Sitra pillows can coordinate with branding your corporate event. Sitra Furniture Rentals, Event Planning and Decor Company suggests you a few key tips.
Key "Toronto Water Fountains " Considerations.
Water Colour – Each Water fountain rental can change the colour of the water as you wish.
Lighting Colour– Each Toronto Water Fountain rental can have its own LED lighting which can be set to specific colours to suit its surroundings. Alternatively, The LED lights can fade between a whole spectrum of colours. The brightness of the colour is affected by the amount of ambient light in the room.
Power–It will require a plug socket to power the Water fountains rentals. The water fountains can run continuously throughout an entire event.
Water– Any standard bathroom or kitchen tap will enable us to fill the tubes via a hose. As an alternative, our team can bring water in barrels. Afterwards, the water is syphoned out and poured down a drain.
Flower Decoration –Toronto Water Fountains can be decorated with real or fake Flower to match your theme, logos or the ambience of the room.